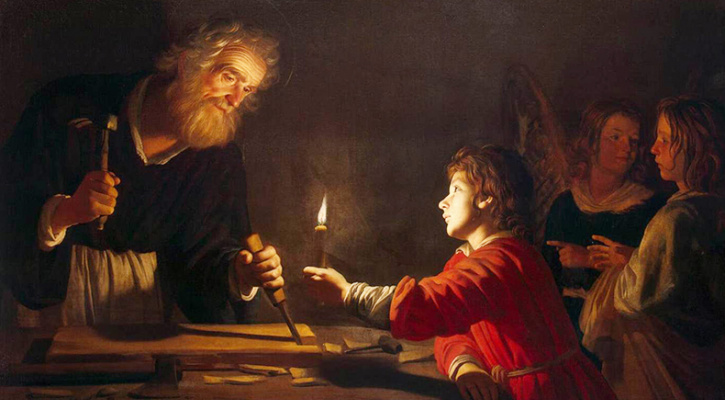 To foster deep devotion to Saint Joseph among Catholics, and in response to the "May Day" celebrations for workers sponsored by Communists, Pope Pius XII instituted the feast of Saint Joseph the Worker in 1955. This feast extends the long relationship between Joseph and the cause of workers in both Catholic faith and devotion. Beginning in the Book of Genesis, the dignity of human work has long been celebrated as a participation in the creative work of God. By work, humankind both fulfills the command found in Genesis to care for the earth (Gn 2:15) and to be productive in their labors. Saint Joseph, the carpenter and foster father of Jesus, is but one example of the holiness of human labor.
Jesus, too, was a carpenter. He learned the trade from Saint Joseph and spent his early adult years working side-by-side in Joseph's carpentry shop before leaving to pursue his ministry as preacher and healer. In his encyclical Laborem Exercens, Pope John Paul II stated: "the Church considers it her task always to call attention to the dignity and rights of those who work, to condemn situations in which that dignity and those rights are violated, and to help to guide [social] changes so as to ensure authentic progress by man and society."
Saint Joseph is held up as a model of such work. Pius XII emphasized this when he said, "The spirit flows to you and to all men from the heart of the God-man, Savior of the world, but certainly, no worker was ever more completely and profoundly penetrated by it than the foster father of Jesus, who lived with Him in closest intimacy and community of family life and work."
Reflection
To capture the devotion to Saint Joseph within the Catholic liturgy, in 1870, Pope Pius IX declared Saint Joseph the patron of the universal Church. In 1955, Pope Pius XII added the feast of Saint Joseph the Worker. This silent saint, who was given the noble task of caring and watching over the Virgin Mary and Jesus, now cares for and watches over the Church and models for all the dignity of human work.
For more on St Joseph, visit:
https://www.franciscanmedia.org/…/franciscan…
~~
La historia de San José Obrero
Para fomentar la profunda devoción a San José entre los católicos, y en respuesta a las celebraciones del "Primero de Mayo" para los trabajadores patrocinadas por los comunistas, el Papa Pío XII instituyó la fiesta de San José el Obrero en 1955. Esta fiesta extiende la larga relación entre José y el causa de los trabajadores tanto en la fe católica como en la devoción. A partir del libro del Génesis, la dignidad del trabajo humano se ha celebrado durante mucho tiempo como una participación en el trabajo creativo de Dios. Mediante el trabajo, la humanidad cumple el mandato que se encuentra en Génesis de cuidar la tierra (Gn 2:15) y ser productivo en sus labores. San José, carpintero y padre adoptivo de Jesús, es solo un ejemplo de la santidad del trabajo humano.
Jesús también era carpintero. Aprendió el oficio de San José y pasó sus primeros años de adulto trabajando codo a codo en el taller de carpintería de José antes de partir para continuar su ministerio como predicador y sanador. En su encíclica Laborem Exercens, el Papa Juan Pablo II afirmó: "la Iglesia considera que es su tarea siempre llamar la atención sobre la dignidad y los derechos de quienes trabajan, condenar las situaciones en las que se violan esa dignidad y esos derechos, y ayudar a orientar los cambios [sociales] para asegurar un auténtico progreso del hombre y de la sociedad ".
San José se presenta como modelo de tal trabajo. Pío XII enfatizó esto cuando dijo: "El espíritu fluye hacia ti y hacia todos los hombres desde el corazón del Dios-hombre, Salvador del mundo, pero ciertamente, ningún trabajador fue jamás penetrado más completa y profundamente por él que el padre adoptivo. de Jesús, que vivió con Él en la más íntima intimidad y comunidad de vida familiar y laboral ".
Reflexión
Para plasmar la devoción a San José dentro de la liturgia católica, en 1870, el Papa Pío IX declaró a San José patrón de la Iglesia universal. En 1955, el Papa Pío XII añadió la fiesta de San José Obrero. Este santo silencioso, al que se le encomendó la noble tarea de cuidar y velar por la Virgen María y Jesús, ahora cuida y vela por la Iglesia y modela toda la dignidad del trabajo humano.
Para más información sobre San José, visite:
https://www.franciscanmedia.org/…/franciscan…