Mass Schedule:
** To view current guidelines and procedures for the Masses, please go here: **
https://olmcatholic.org/2020/05/14/new-guidelines-for-mass-attendance/
** Para ver las pautas y procedimientos actuales para las Misas en español, vaya: **
https://olmcatholic.org/2020/05/14/nuevas-pautas-para-asistencia-masiva/
Current Mass schedule is as follows:

Monday-Saturday: Morning Mass at 8:00am.  No need to reserve, but Mass is limited to 25 participants.
Thursday:
5:30pm Mass – No Adoration
Friday: Spanish Mass at 7:00pm.
Please call to reserve a space.
Please call 307-733-2516, Monday – Friday, from 8:30am to 4:00 pm to reserve a space for Weekend Mass
Saturday:
8:45am (sanitizing of Church spaces)
4:00pm Mass
5:15 pm (sanitizing of Church spaces)
6:00pm Mass
7:00pm (sanitizing of Church spaces)
Sunday:
8:00am Mass
9:30am (sanitizing of Church spaces)
10:00am Mass
11:30am (sanitizing of Church spaces)
12:00pm Spanish Mass
1:15pm (sanitizing of Church spaces)
** Please allow time prior to Mass for ushers to guide you to a seat. We ask that parishioners move straight to their seats and do not congregate at this time. We request that attendees wear face masks. **
The Chapel of the Sacred Heart in Grand Teton National Park will not open in June 2020 and will remain closed until further notice.
Sunday Mass
To join in Mass with Father Lucas from Our Lady of the Mountains Catholic Church, please view our YouTube video: https://youtu.be/tDylTvpqJqI

An Act of Spiritual Communion
I believe that You
are present in the Most Holy Sacrament.
I love You above all things,
and I desire to receive You into my soul.
Since I cannot at this moment
receive You sacramentally,
come at least spiritually into my heart.
I embrace You as if You were already there
and unite myself wholly to You.
Never permit me to be separated from You.
Amen.
Daily Mass
To join in daily Mass from Bishop Barron's Chapel, please follow the link below. Daily Mass is posted at 8:15am ET each day.
https://www.wordonfire.org/daily-mass/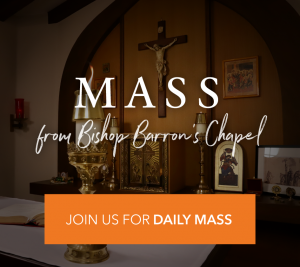 ** Please view the calendar for a current Mass schedule. Some public Masses have resumed, but capacity is still very limited. Daily and weekly Masses will continue to be posted to our website and social media accounts. **

Confession/Reconciliation
** Please call Father Lucas if you would like to schedule Confession.  #307-262-6013 **
Click here to see the full liturgy schedule.