Doers of the Word
Palm/Passion Sunday
Opposition heats up!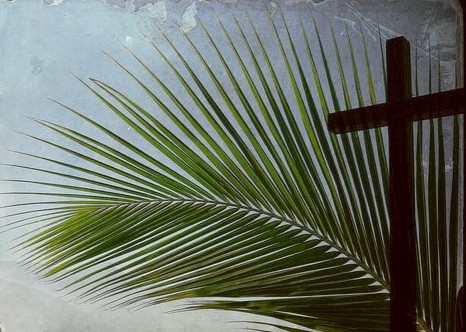 Jesus rides into town on a donkey, not on a gilded chariot. Jesus is openly declaring himself the Messiah, and the rabble rousers are about to come out in full force.
Religious leaders raise an alarm, and even the Romans take note of a man claiming to be king. The last few days of Jesus' life show a mounting sense of urgency as seen in several dramatic confrontations at the temple. In the spirit of the Old Testament prophets, Jesus brands greedy profiteers at the temple as robbers and forcibly drives them out.
Jesus does nothing to temper his harsh message. He explains his aggressive behavior with the parable of the tenants (Mark 12:1-12). He presents himself as God's final attempt to break through people's stubborn resistance.
Battle lines are drawn. On one side is Jesus, kept safe by his widespread popularity. On the other side are leaders of the religious and political establishments. Threatened by Jesus' radical message of repentance and reform, they are determined to find a way to trap Jesus and turn the crowd against him.
In what way can you identify with Jesus' feeling in these stories? If somebody asks you, "What keeps you going through hard times?" how would you answer? St. Paul would have answered with words from his second chapter to the Philippians. Worth reading!
Paul describes the kind of teamwork we have with God. While God is working within, we must "work out our salvation with fear and trembling." (2:12). Much later a spiritual giant named St. Teresa of Avila would express the paradox this way: "I pray as if all depends on God; I work as if all depends on me." Her formula summarizes Paul's spiritual style. St. Benedict explained it with his motto: ORA ET LABORA. Pray and work.
How can you "value others above yourselves" (verse 3) without developing a low self-image?
~~~
Hacedores de la Palabra
Domingo de Ramos / Pasión
¡La oposición se calienta!
Jesús llega a la ciudad en un burro, no en un carro dorado. Jesús se está declarando abiertamente el Mesías, y la chusma está a punto de salir con toda su fuerza.
Los líderes religiosos dan la alarma, e incluso los romanos toman nota de un hombre que dice ser rey. Los últimos días de la vida de Jesús muestran un creciente sentido de urgencia como se ve en varios enfrentamientos dramáticos en el templo. En el espíritu de los profetas del Antiguo Testamento, Jesús tilda de ladrones a los codiciosos especuladores del templo y los expulsa por la fuerza.
Jesús no hace nada para moderar su duro mensaje. Explica su comportamiento agresivo con la parábola de los labradores (Marcos 12: 1-12). Se presenta a sí mismo como el intento final de Dios de romper la obstinada resistencia de la gente.
Se trazan líneas de batalla. Por un lado está Jesús, protegido por su amplia popularidad. Del otro lado están los líderes de los establecimientos religiosos y políticos. Amenazados por el mensaje radical de arrepentimiento y reforma de Jesús, están decididos a encontrar una manera de atrapar a Jesús y poner a la multitud en su contra.
¿De qué manera puede identificarse con el sentimiento de Jesús en estas historias? Si alguien te pregunta: "¿Qué te mantiene atravesando tiempos difíciles?" como responderias San Pablo habría respondido con palabras de su segundo capítulo a los Filipenses. ¡Vale la pena leer!
Paul describe el tipo de trabajo en equipo que tenemos con Dios. Mientras Dios obra en nuestro interior, debemos "trabajar en nuestra salvación con temor y temblor". (2:12). Mucho más tarde, un gigante espiritual llamado Santa Teresa de Ávila expresaría la paradoja de esta manera: "Rezo como si todo dependiera de Dios; Trabajo como si todo dependiera de mí ". Su fórmula resume el estilo espiritual de Paul. San Benito lo explicó con su lema: ORA ET LABORA. Ore y trabaje.
¿Cómo pueden "valorar a los demás por encima de ustedes mismos" (versículo 3) sin desarrollar una imagen baja de sí mismos?