Fr. Phil's Doers of the Word.                
Saturday, June 13        
Under the Broom Tree.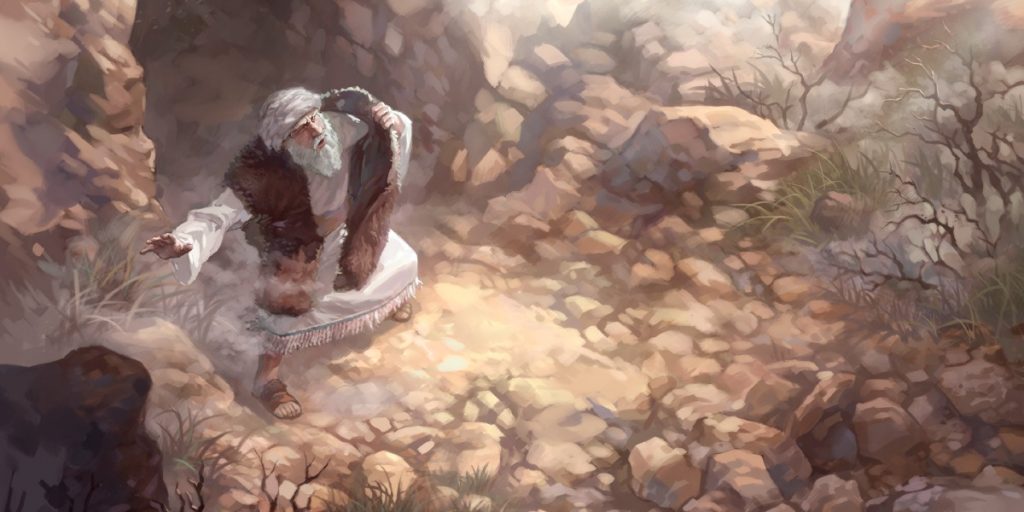 We have been reading about Elijah. Picture him. He is fleeing for his life. He comes to a Broom Tree. He is despondent, defeated, and depressed. Have you ever had the feeling? God enters the picture. He always does. His treatment for this severe depression is rest, food and drink! Well! Elijah travels to a cave. He hears a whisper. It's a gentle voice of Love. Love heals.
We've all been through this. It's a St. Augustine moment or a St. Ignatius moment. St. Augustine's life was falling apart. He was having a nervous breakdown. In his famous autobiography, he wrote that one day he found himself all alone sitting in a garden, under a tree, sobbing. (I know somebody like that, not in a garden but on a Yakima street corner.)
He thought he heard a voice whisper, "Take and read. Take and read." Take what? Read what? So, he went into the house, picked up a Bible, returned to the garden, and opened the book at random.
His eyes fell on St. Paul's words, where he read, "Not in rioting and drunkenness, not in chambering and wantonness, not in strife and envying, but put on the Lord Jesus Christ and make no provision for the flesh and its weaknesses," He wrote, "No further would I read, nor needed I, for instantly, at the end of the sentence by a light, as it were, of serenity infused into my heart, all the darkness of doubt vanished away." He found new life, and so do we.
Or St. Ignatius. A shattered leg ended his military career. Laying in a hospital bed asking himself, what does this suffering mean? He had no idea that one day at age 38, this useless soldier, a little under five feet tall, would literally hobble to Paris to found the Jesuits.
The first question, when one's life is falling apart is, what is this tragedy asking of me? Is it calling me to do something more? A poem by Grace Noel Crowell entitled, "For one who is tired" attempts an answer:
Today, be strong. / He knows your strength is spent, / He knows how long the road has been; / How weary you have grown. / For He who walked the earthly roads alone, / Each bogging lowland and each rugged hill, / can understand, and so he says, "be still" / and Know that I am God. "The hour is late / and you must rest awhile; and you must wait / Until life's empty reservoirs fill up. / as slow rains fill an empty, upturned cup. / Hold your cup, dear child, for God to fill. / He only asks today that you be still."/
It's a painful place to be.  Under a broom tree or on a Yakima street corner.  But it's very often also the beginning of something new.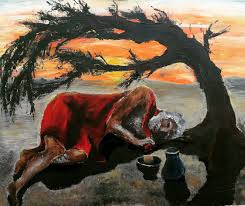 Sábado 13 de junio
Debajo del árbol de la escoba.
Hemos estado leyendo sobre Elijah. Imagínelo. Él está huyendo por su vida. Él viene a un árbol de escoba. Está abatido, derrotado y deprimido. ¿Alguna vez has tenido la sensación? Dios entra en escena. El siempre lo hace. ¡Su tratamiento para esta depresión severa es descansar, comer y beber! ¡Bien! Elijah viaja a una cueva. Él escucha un susurro. Es una suave voz de amor. El amor sana.
Todos hemos pasado por esto. Es un momento de San Agustín o un momento de San Ignacio. La vida de San Agustín se estaba desmoronando. Estaba teniendo una crisis nerviosa. En su famosa autobiografía, escribió que un día se encontró solo, sentado en un jardín, debajo de un árbol, sollozando. (Conozco a alguien así, no en un jardín sino en una esquina de la calle Yakima).
Le pareció oír una voz susurrar: «Toma y lee. Toma y lee. Tomar que? ¿Leer que? Entonces, entró en la casa, recogió una Biblia, regresó al jardín y abrió el libro al azar.
Sus ojos se posaron en las palabras de San Pablo, donde leyó: "No en disturbios y borracheras, no en acoso y desenfreno, no en contienda y envidia, sino que se vistió del Señor Jesucristo y no hizo provisión para la carne y sus debilidades, Él escribió: "No leería más, ni lo necesitaría, ya que al instante, al final de la oración, por una luz, por así decirlo, de serenidad infundida en mi corazón, toda la oscuridad de la duda desapareció". Encontró una nueva vida, y nosotros también.
O San Ignacio. Una pierna destrozada terminó su carrera militar. Acostado en una cama de hospital preguntándose, ¿qué significa este sufrimiento? No tenía idea de que un día a los 38 años, este soldado inútil, de poco menos de cinco pies de altura, literalmente cojearía a París para fundar a los jesuitas.
La primera pregunta, cuando la vida de uno se desmorona es, ¿qué me está pidiendo esta tragedia? ¿Me está llamando a hacer algo más? Un poema de Grace Noel Crowell titulado "Para quien está cansado" intenta una respuesta:
Hoy, sé fuerte. / Él sabe que tu fuerza se ha gastado, / Él sabe cuánto tiempo ha estado el camino; / Qué cansado has crecido. / Porque Aquel que caminó solo por los caminos terrenales, / Cada tierra baja y cada colina escarpada, / puedo entender, y por eso dice, "quédate quieto" / y Sabe que soy Dios. "La hora es tarde / y debes descansar un rato; y debes esperar / hasta que se llenen los depósitos vacíos de la vida. / a medida que las lluvias lentas llenan una taza vacía y vuelta hacia arriba. / Sostén tu copa, querido hijo, para que Dios la llene. / Solo pide hoy que te quedes quieto. "/
Es un lugar doloroso para estar. Debajo de un árbol de escoba o en una esquina de la calle Yakima. Pero a menudo también es el comienzo de algo nuevo.