To our parishioners and visitors:
After much thought and prayerful consideration, we are pleased to announce that reservations will no longer be required for attendance at our weekend Masses. We appreciate the diligent efforts of Mass-goers who have been following social distancing and hygiene measures since the pandemic began, and ask that all attendees continue to be mindful of such measures, as we intend to follow the lead of the County, which still has a mask mandate in place. Thank you for your efforts in keeping our parish a safe and healthy place to be and pray. We look forward to seeing you at Mass!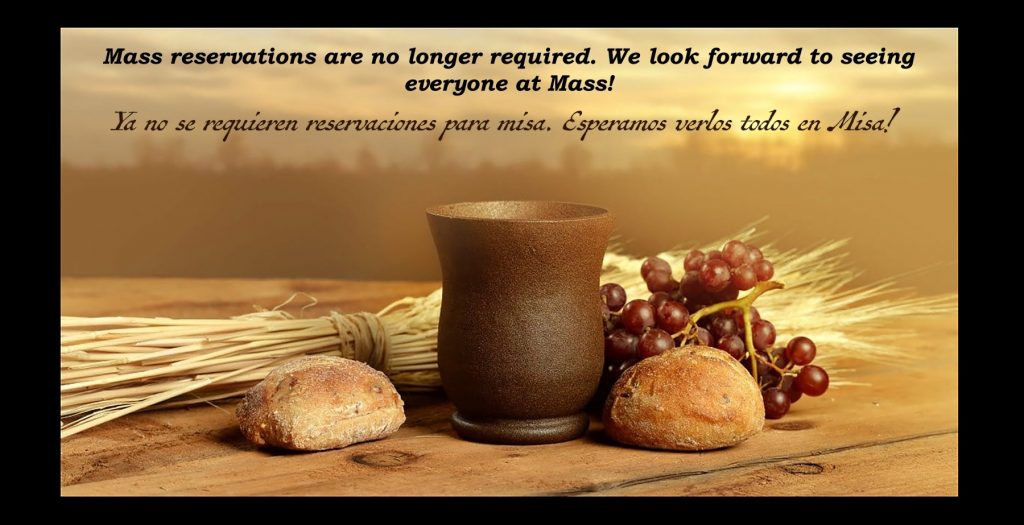 A nuestros feligreses y visitantes:
Después de mucho pensamiento y consideración en oración, nos complace anunciar que ya no será necesario hacer reservaciones para asistir a nuestras misas de fin de semana. Apreciamos los esfuerzos diligentes de los que han asistido a misa y han estado siguiendo las medidas de distanciamiento social e higiene desde que comenzó la pandemia, y pedimos que todos los asistentes continúen siendo conscientes de todas estas medidas, ya que tenemos la intención de seguir el ejemplo del Condado, que todavía requiere el uso de máscaras. Gracias por sus esfuerzos para mantener nuestra parroquia un lugar seguro y saludable para estar y orar. ¡Esperamos verte en la Misa!